2018 March 2018 Concerts in Chennai with the Madras Chamber Orchestra, violin Master classes. April 2018 Sri Lanka, concerts with the Royal college orchestra and violin Master class.
2017 August 10th : Bernard Wacheux conducts an exceptional concert dedicated to Mozart with The Madras Chamber Orchestra-India - at the Museum Theatre - Chennai.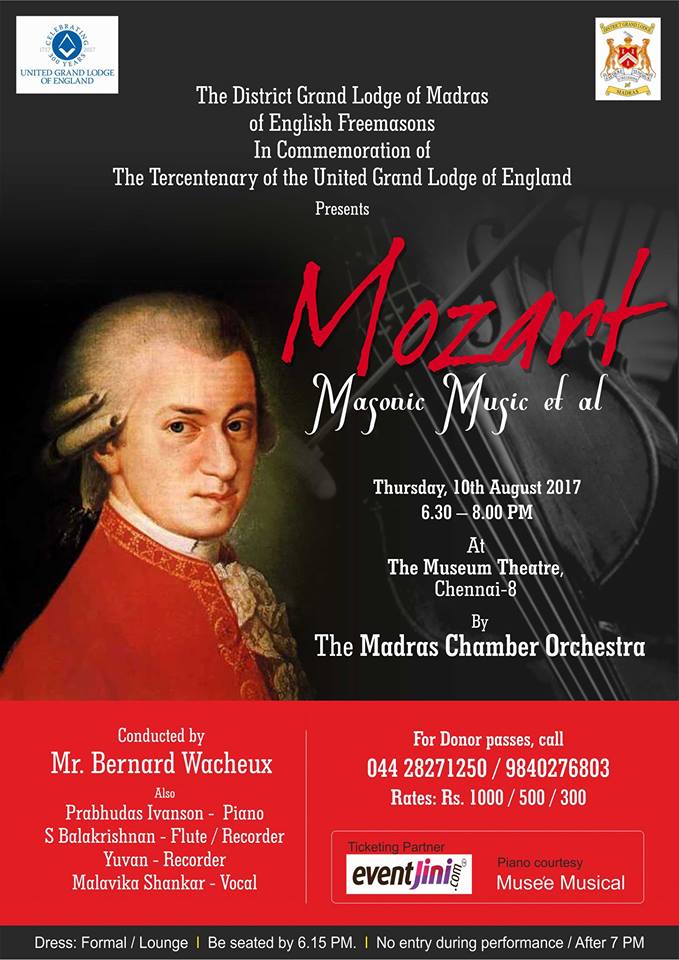 October : Recording of the first CD of the Madras Chamber Orchestra. September/October : Violin Master class at Musee Musical- Chennai. November : Special Concert. Bernard Wacheux conducts the Madras Chamber Orchestra. Date to be fixed. Mozart, Haydn, Mahler…
2016 January Opening of the blog "Violin my love" (in French" Violon mon amour"). Dedicated to everything related to the violin, its music, its composers, its great pedagogues and interpreters, its schools and famous violin makers. Later the presentation of my method of teaching violin and my ideas. February: Conference on Pedagogy. Musee Musical- Chennai. March: Concerts with the Madras Chamber Orchestra all over India.
2015 February,March,April: Elaboration of a Video Violin Method. (Released April 2016). Septembre: violin and orchestra conducting master class-Chennai-India October: Celebration of the 40th Anniversairy of the Madras Chamber Orchestra. Concert /event at Museem Theater of Madras.
2014 February: Violin Master Class-Chennai-India. Conference on the violin(western classical). Pondicherry French Alliance March/April: Conference on all music for the violin : Western classical, Gypsy, Celtic,Jazz, Carnatic etc ... Pondicherry French Alliance Concert at Sri Lanka with "Chambre music association of Colombo". Orchestra conducting Master Class. Septembre: Artistic Director of Musical concert "Aude to Rama"- Lille France. Special composition by Bernard WACHEUX "Shadows and Lights".". As a tribute to Indian soldiers fallen on the battlefield during the 1st World War. Violon and orchestra conducting Master class in Madras.Inde. Conference on Jazz "Universal Music".Pondicherry French Alliance 0ctober 2014: Conducts the Bombay Chamber Orchestra.
2013 June: Bernard Wacheux Jury for the violin competition at the National Superior Music Conservatory of Paris. September/October: violin and Orchestra conducting Master Class at Musee Musical- Chennai-India November: Conference on music in general. Pondicherry French Alliance
° MARCH 2014 - Bernard Wacheux gives Master Classes in violin, Chamber Music and Orchestra Conducting at MUSEE MUSICAL MADRAS - INDIA.
° APRIL 2014 - SRI LANKA COLOMBO Trinity College London, Alliance Française and Goethe Institut feature Bernard Wacheux.
° APRIL 2 3 4 Bernard Wacheux gives master classes in Violin, Chamber Music and orchestra conducting.
° APRIL 5th Bernard Wacheux performs with the Chamber Music Society of Colombo : Franck Sonata for violin and piano and Schuman Piano quintet.
° OCTOBER 2014 BERNARD WACHEUX brings his group "Les Solistes Français" to india on a tour of the main cities: BOMBAY, BANGALORE, HYDERABAD, MADRAS, GOA ....
° CHAMBER MUSIC PROGRAM, string trio, piano quartet , string quartet and piano quintet by MOZART, SCHUBERT, DVORAK, SCHUMANN, RAVEL...
° MASTER CLASS FOR VIOLIN, VIOLA , CELLO AND PIANO WILL BE GIVEN BY THE ARTISTS IN EACH VISITED CITY.
° Bernard Wacheux will give also Conducting orchestra Master class.
For informations :
bernard.wacheux@gmail.com